Athletes have high energy demands, and it can be difficult to meet these needs with meals alone. Energy bars and bites are a great way to offset hunger and fill in gaps between meals. Together with my intern, Sara, we created a list of energy bars and bites that we personally enjoy. These recipes can be easily prepared as a convenient way to meet nutritional needs.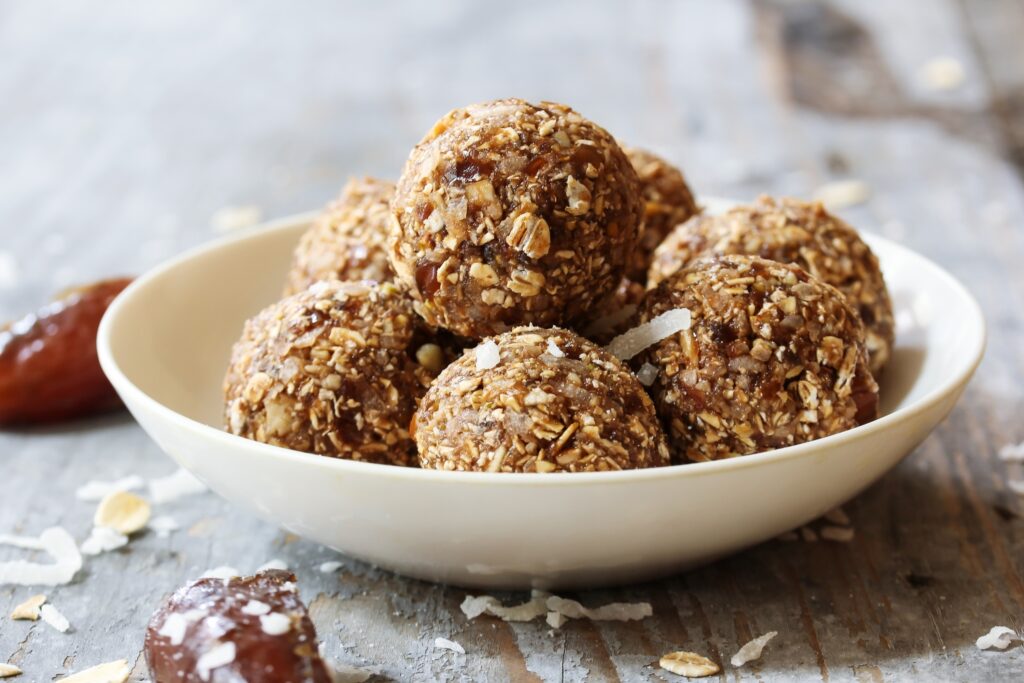 Chocolate Peanut Butter Bites
Combine all ingredients (except chocolate chips) in a food processor and pulse until well-mixed. If you don't have a food processor, use instant oats.

Add 2-3 Tbsp water to hold the mixture together.

Remove from the food processor and stir in mini chocolate chips.

Scoop mixture and roll into balls. Freeze until solid and store in the freezer or refrigerator.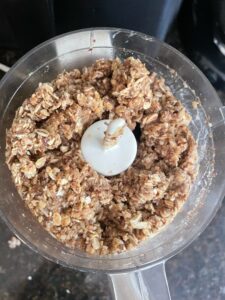 1 cup rolled oats

1 1/4 cups Medjool dates — softened and pitted (about 10 dates)

1/2 cup peanut butter

3 tablespoons mini chocolate chips

1 tablespoon

chia seeds

  (optional)

1 tablespoon ground flaxseed

1/8 teaspoon salt

3 tablespoons cocoa powder

2-3 Tbsp water
To soften dates, leave in water for 10 min or add to boiling water for 5 min.

Place the dates in the bowl of a food processor and pulse several times until the dates break into small bits and form a ball that sticks to the side of the bowl. 

Add the oats, peanut butter, and salt. Pulse until the mixture is broken down and in small pieces but not completely smooth. Add the cocoa powder and pulse to combine. At this point, the dough will look like crumbs. Add 2-3 tablespoons of water until the mixture forms a paste. 

Scoop some into your hand and press to roll it into a ball, it should hold together easily. If it seems too dry and isn't holding together, add a little peanut butter; if it's too sticky, add a few more oats. (The amount you need may vary based upon the brand of peanut butter you use and the moisture of the dates.)

Roll the dough into balls of your desired size (I did slightly over 1 inch and ended up with 14 energy balls). 

Place in the freezer or refrigerator to harden.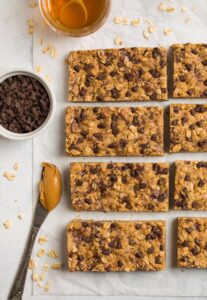 Line an 8×8- or 9×9-inch baking pan with parchment paper, leaving an overhang on two sides like handles.

Place the peanut butter, honey, and coconut oil in a medium heatproof bowl. Set the bowl over a saucepan of water and bring the water to a simmer over medium to medium-high heat. (Do not let the water boil, and make sure the water does not touch the bottom of the mixing bowl.) Stir and heat until the mixture is smoothly combined. Remove the bowl from the saucepan and turn off the heat

Add the oats, protein powder, flaxseed, cinnamon, and salt to the bowl with the peanut butter mixture. Stir to combine. The mixture will seem very dry at first but will come together as you stir. It won't be sticky but should hold together when pressed.

Fold in the chocolate chips or cranberries. (If the mixture is still fairly warm, pop the bowl into the refrigerator for a few minutes to let it cool. Cooling the mixture will prevent the chocolate from melting. Don't worry if they do melt a little—the bars will still be delicious!)

Press evenly into the prepared pan and refrigerate for 1 hour or until firm.

Lift the bars from the pan using the parchment handles and transfer them to a cutting board. Slice into bars as desired and enjoy.
2 cups oats

1/2 cup canned pumpkin puree

1/4 cup almond butter or peanut butter

1/4 cup chia seeds

1/4 cup pumpkin seeds

1 teaspoon vanilla extract

1/2 teaspoon cinnamon (optional, see notes)

1/2 cup maple syrup or honey

generous pinch of salt

1/2 cup dark chocolate chips
Pulse all ingredients (except chocolate chips) in a food processor until well-mixed.

Add chocolate chips and pulse a few more times until they are in small pieces.

Scoop mixture and roll into balls. Freeze until solid and store in the freezer or refrigerator.
Energy Bites By Sara Two Ways
IG  @eatzbysara 
Coconut Cashew Energy Bites
1 cup oats

½ cup cashew butter

¼ cup honey

1 cup shredded coconut

Optional: 2 tbsp vanilla protein powder




Maple Cinnamon Energy Bites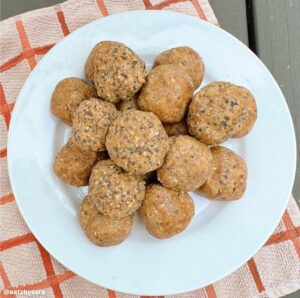 1 cup oats

½ cup almond butter 

¼ cup maple syrup

2 tbsp chia seeds

*

(for this recipe I 

recommend Justin's Maple Almond Butter for flavor)*




Directions for both recipes:
Mix all ingredients together in a large bowl

With your hands, roll the mixture into balls (you can make them any size you like, I usually make them about 1-2 inches in diameter. This way, the recipe yields about 12-15 bites.