quick LUNCH ideas for athletes
Why is eating LUNCH important to an athlete?
Lunchtime is an opportunity to replenish nutrients from your morning workout or prepare your body for an evening workout. Plan out lunches to ensure you have a variety of foods in your home to prepare meals.
Strive for a balanced lunch to help with feeling full, feeling energized and reduce cravings.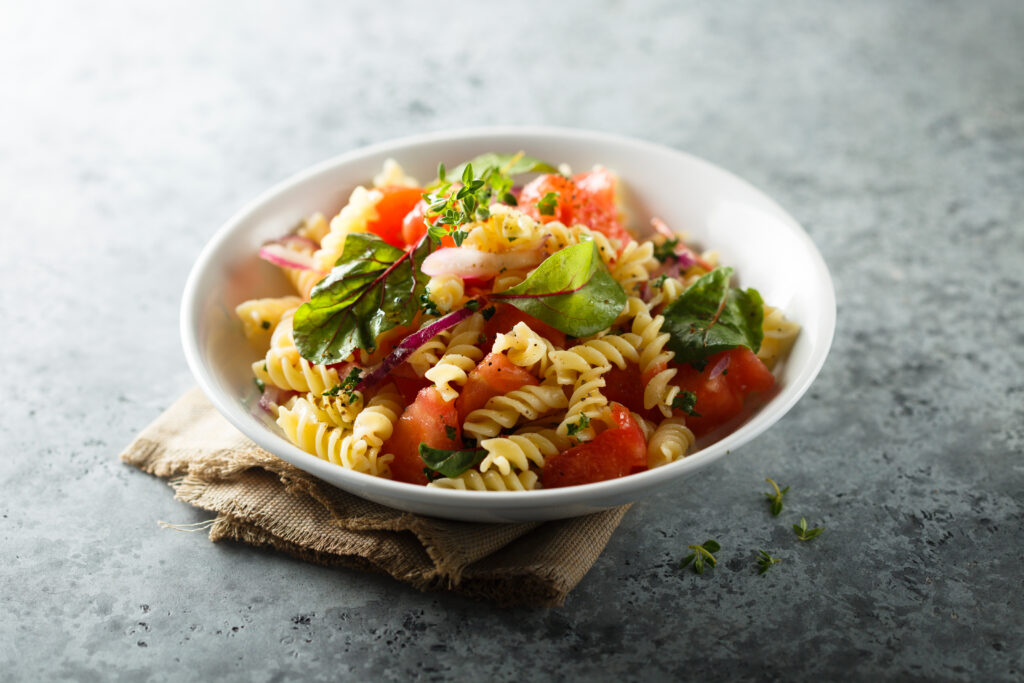 Essential components of a balanced meal >> carbs, protein, fats
A balanced meal consists of three macronutrients: carbohydrates, fat and protein. If you have too much of one nutrient, you might miss out on important nutrients that your body needs to perform at its bes  Carbohydrates provide the primary source of fuel for exercise. As you exercise, your body breaks down glycogen into glucose for energy. Foods that increase your glycogen are carbohydrates. Ideally, these carbohydrates are broken down more slowly which help keep energy levels stable after a workout. Some examples are oatmeal, rice (white or brown), sweet or white potatoes, pasta, whole grain breads and quinoa.
 Before a workout, look for simple carbohydrates that are low in fat and fiber. Simple carbohydrates are digested quickly into usable energy. However, after a workout you should reach for complex carbohydrates that contain fiber and other nutrients for optimal recovery.
Protein-rich foods are essential to help with recovery and replenish amino acids used by muscles. By eating high-quality protein after a workout, the body can recover faster and gain more strength. Muscle strength is essential to running faster speeds. Best sources of protein are eggs, dairy, tofu, chicken, turkey, fish (salmon, mackerel, anchovies, herring) and lean beef.
Aim for 20-30 grams high-quality protein at each meal. That's about 3-4 oz protein from an animal source and 1-2 cups from vegetable sources like beans, lentils, or tofu.
Fat provides calories to support hormone production and foods with fat also have important fat soluble vitamins such as A, D, E, and K. All of these vitamins help with menstruation, bone formation, or iron regulation. It's important to get in enough healthy fat calories to keep you full and provide fat soluble vitamins. 
Best sources of fats are from avocado, nuts, seeds, olive oil, and fish.
Granola parfait with yogurt and berries
Scrambled eggs with sauteed vegetables such as onions and peppers. Serve with a side of mixed berries and whole grain toast. Use either the whole egg or egg whites to make a nutritious meal any time of day. Make a tofu scramble as a vegetarian option.
Pita pizza with mushrooms and spinach
Toast pita, add tomato sauce and handful of spinach and mushrooms then bake in the oven, toaster or air fryer at 350 x 15 min.
Stir fry (chicken, vegetable or tofu). Serve with white or brown rice. Recipe below.
Salads
Quinoa salad made with peppers, avocado, mango, chickpeas, nuts, cheese and chicken. Top with lime and olive oil dressing, see below for more dressing ideas.
Grilled chicken salad
Use fresh spinach as a base and top with rotisserie, leftover chicken or tofu. Add roasted chickpeas, hard-boiled egg and lemon-vinaigrette dressing (recipe below).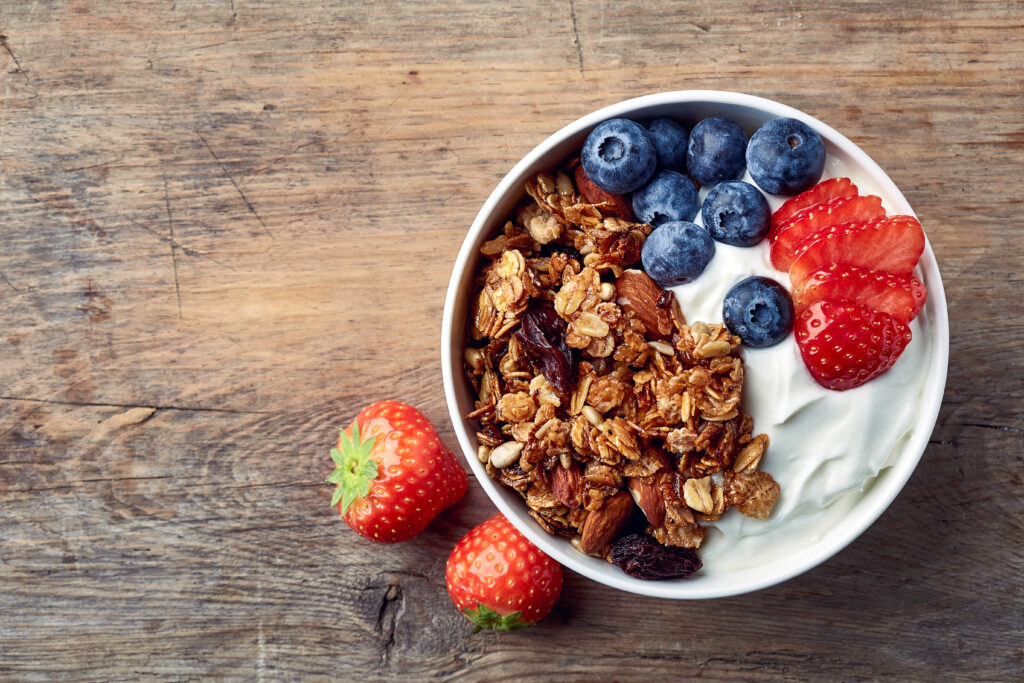 Kale chicken caesar salad
Buy the kale cleaned and washed to save time, then add chickpeas, parmesan and avocado. Mix in caesar dressing.
Salad Nicoise
Romaine lettuce, hard boiled eggs, steamed string beans, olives and top with lemon vinaigrette dressing (recipe below). Serve with a side of sourdough bread.
Easy three bean salad
Made with chickpeas, kidney beans and green beans (recipe below).
Pasta salad with vegetables, topped with balsamic vinaigrette dressing. Ingredients: cooked pasta, chopped cucumbers, carrots, feta (sub tofu for vegan version), and chickpeas.
Sandwiches & Wraps  – Serve with side of fruit
Hummus and avocado wrap with lettuce, tomato and shredded carrots.
Chicken caesar wrap with lettuce and tomatoes.
Egg salad sandwich – combine 4-6 hard boiled eggs with 2-3 Tbsp mayo.
Turkey and avocado sandwich on whole wheat. 
Grilled chicken wrap – can use rotisserie chicken. Serve with chopped red peppers and fruit salad.
Peanut butter and jelly sandwich, yogurt and fruit
Open-faced toast and avocado – add shredded carrots, sprouts (and any veggie you can fit).
Quesadilla
Whole wheat wrap with cheese, black beans, salsa, and avocado.
Burrito
Southwest burrito with grilled chicken, beans, rice, salsa, avocado.
Veggie burrito made with roasted sweet potato, black beans, salsa, and avocado. Click here for recipe from the Spruce Eats.
Smoothies
Green smoothie combine a handful of Kale, 1 banana, 2 handfuls of ice, 1 cup milk, 3 dates or honey, and 2 Tbsp peanut butter, optional: top with ½ tsp chia seeds or ground flax seeds
Bowls 
Quinoa bowl with sauteed spinach, egg, onion and sriracha. Click here for recipe from Dinner A Love Story.
Buddha bowl with quinoa, diced carrots, diced cucumber, diced tomato, crunchy chickpeas and sunflower seeds with avocado on top; meat protein optional; eat hot or cold. Click here for full recipe.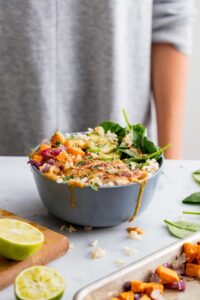 Basic balsamic vinaigrette
¼ cup balsamic vinegar
1 teaspoon honey or maple syrup
1 garlic clove, minced
2 teaspoons Dijon mustard
½ teaspoon sea salt
Freshly ground black pepper
¼ cup plus 2 tablespoons extra-virgin olive oil
Lemon vinaigrette
Juice of 1 fresh lemon (about ¼ cup)
1 small garlic clove, grated
1 teaspoon Dijon mustard
1/4 teaspoon sea salt, more to taste
Freshly ground black pepper
1/2 teaspoon honey or maple syrup, optional
1/4 to 1/3 cup olive oil
1/2 teaspoon fresh or dried thyme, optional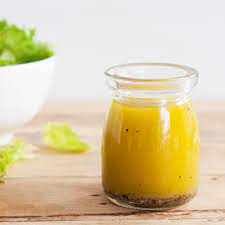 Soy sesame dressing
¼ cup extra virgin olive oil
¼ cup seasoned rice vinegar

 (can also use regular rice vinegar + ½ tsp sugar, ¼ tsp salt, or white vinegar)

1 ½ T honey or maple syrup
3 tablespoons sesame oil
1 ½ teaspoons soy sauce 

(I use reduced sodium)

pinch salt
1 -2 cloves garlic 

minced (optional)
Peanut dressing
1 small clove garlic, minced
2 T creamy peanut butter
1/4 cup Juice of 1 lime
1 T low-sodium soy sauce
1 T honey or maple syrup
1 T toasted sesame oil
Easy three bean salad with vinaigrette
For the salad:
1 (15-ounce) can cannellini beans, rinsed and drained

1 (15-ounce) can kidney beans, rinsed and drained

1 (15-ounce) can garbanzo beans, rinsed and drained

1/2 red onion, finely chopped (about 3/4 cup), soaked in water to take the edge off the onion

2 celery stalks, finely chopped (about 1 cup)

1 cup loosely packed, fresh, finely chopped flat-leaf parsley

1 teaspoon fresh finely chopped rosemary
For the dressing:
1/3 cup apple cider vinegar

1/4 cup granulated sugar (more or less to taste)

3 T extra virgin olive oil

1 1/2 teaspoons salt

1/4 teaspoon black pepper
Stir Fry recipe
Can also buy carrots and onions chopped to save time
3/4 cup brown rice (cooked based on package instructions)

3 garlic cloves (finely chopped)

1 chunk ginger (small, peeled and finely chopped)

1 yellow onion (chopped to your preference)

1 head broccoli (stems removed)

3 carrots (sliced)

1 baby bok choy (ends cut off and leaves separated)

1/4 cup toasted sesame oil

1/4 cup tamari (or soy sauce)

scallions (sliced)

chili flakes

Sriracha

2 # chicken or package of tofu, cut into 1 inch pieces
For the marinade:
1 cup water

¼ cup soy sauce

5 teaspoons packed brown sugar or 2 Tbsp honey

½ teaspoon ground ginger

¼ teaspoon garlic powder
Combine and add protein (chicken or tofu). Let marinade for at least half an hour.
In a large omelet pan or dutch oven, saute garlic, onion, ginger, broccoli, and carrots. Cook for 5-10 minutes or until browned. Then add baby bok choy and cook for 3 minutes longer. Place vegetables on a large dish or pan. Add 2 Tbsp olive oil and 1 Tbsp sesame oil and cook protein (chicken or tofu) until golden brown. Pour in the rest of the marinade and cook over medium heat for 3 minutes. Add rice and vegetables and stir. Serve and add scallions, chili flakes or sriracha.