Athlete's Guide to Choosing a Nutrition Bar
I always recommend a food first approach but sometimes fresh food isn't always available. Athletes have high energy demands, and in order to maintain a positive energy balance, athletes need to eat throughout the day. This might be challenging for athletes that have long, busy schedules or a second practice. There are many nutrition bar options available, but I've narrowed it down to a few that have enough protein and carbohydrates for athletes. 
Nutrition bars are a great way to offset hunger, prevent injury and help with recovery.
What to look for in a nutrition bar
Calories are a guide to know how much you need to eat. Most bars listed below are between 200-400 calories, which is an appropriate amount of calories for a snack. Athletes' calorie levels can vary depending on time spent exercising and intensity. Therefore, calorie requirements can be as much as 2500-5000 calories for very active individuals, which can be hard to obtain in meals. If you need further guidance on calories, it's best to work with a sports dietitian to help you determine the best calorie intake for you. 
Fat is an important nutrient that has key functions in the body such as helping to keep you fuller for longer, carry fat soluble vitamins and help with energy balance. Keep in mind, bars with high amounts of fat can take longer to digest, so it might be best to consume them well before you begin a workout or use them as a post workout recovery food. Athletes can target about 70-80 grams of fat per day, which is about 10 grams fat per snack and 25 grams fat per meal. 
Protein is important to help grow muscle and prevent muscle breakdown. To maximize muscle growth and repair, studies show that protein spread throughout the day will have the biggest impact on muscle growth. Protein slows down digestion and helps keep blood sugars steady. Aim for 10-20 grams protein per bar. 
Carbohydrates are essential for fueling working muscles before a workout and for recovery afterward. In between workouts, an athlete's body is constantly restocking glycogen and recovering, even at rest. Bars are a great way to keep the supply of carbohydrates continuous. Look for nutrition bars that have 30-60 grams of carbs in the form of oats, fructose, glucose or maltose. 
Fiber is essential to helps grow good gut bacteria, stabilize blood sugars and promotes regular bowel movements. Dietary guidelines suggest 25-30 grams fiber per day. Look for bars with about 3-5 grams fiber. Keep in mind, some bars contain very high levels of fiber which can be challenging to have the day before an endurance event. Fiber expands in the colon creating an urgency to use the bathroom multiple times. This can be a problem for endurance athletes in a competition without a bathroom nearby. 
Sugar is okay for athletes. Diet culture has taught us that sugar is bad, but athletes have much higher energy demands and sugar can be part of a healthy diet in small quantities. Aim for bars with natural sugars such as honey or maple syrup on the label. Fructose and maltose have been shown to increase glycogen stores quickly, which helps performance and recovery.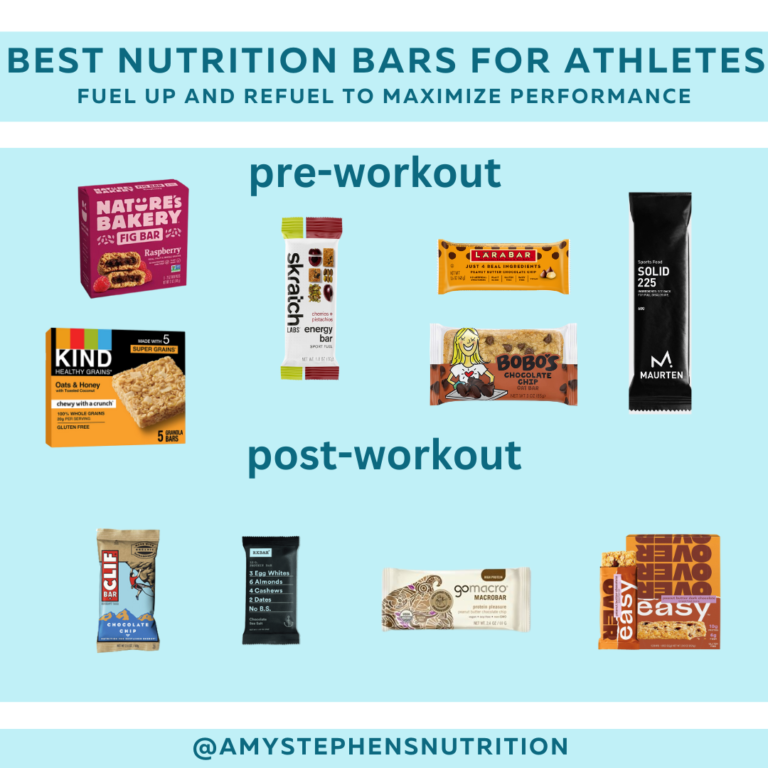 Here are a few suggestions for pre-workout bars. I selected these options below because they contained higher carbohydrates, low-fat and low -fiber.  These nutriets tend to cause GI issues in some people. Studies support a greater amount of carbohydrates and less protein/fat/fiber before a workout. 
Nutrition facts:
340 calories 
12 g fat 
62 g carb
4 g fiber
6 g protein 
What I love: Bobo's are sold in local grocery stores and available in a bunch of interesting flavors such as chocolate almond and maple pecan. They can be broken in half for two snacks. 
✓ GF, vegan 
$29.88/12 bars ($2.49 each) 
Nutrition facts:
225 calories 
3.6 g fat 
41.5 g carb 
2.4 g fiber 
2.9 g protein 
What I love: The fructose-glucose syrup is an ideal ratio for energy production plus the low fiber content make this a great choice for pre-workout fuel. 
✓ GF 
Cost $36.00/12 bars ($3.00 each)
These are my suggestions based on the nutrient composition. I generally look for a 4:1 ratio of carbohydrates to protein. This ratio has been shown to maximize glycogen stores, stimulate muscle protein synthesis and promote recovery.
Nutrition facts:
290 calories 
11 g fat 
39 g carb 
2 g fiber
11 g protein
What I love: GoMacro is a great tasting vegan bar with protein from almond butter. Also has a snack size version. 
✓ GF, Vegan 
Cost $38.95/12 ($3.25 each) 
Nutrition facts:
235 calories
5 g fat 
43 g carb 
5 g fiber 
11 g protein
What I love: Clif bars are available in many local grocery stores. I also like the 4:1 carbohydrate: protein ratio which is great for recovery after a workout. 
✓ GF 
$18.77/18 bars ($1.04 each) 
Nutrition facts:
210 calories 
9 g fat 
23 g carb 
5 g fiber 
12 g protein 
What I love: RXBars have tons of flavors and they are easy to purchase, plus they are small enough to easily fit in your pocket.
✓ GF 
$23.37/12 bars ($1.95 each) 
Nutrition facts:
230 calories 
11 fat 
24 g carb 
6 g fiber 
10 g protein 
What I love: Over Easy bars are a great breakfast option as recovery food. They have a ratio of 2:1 carbs to protein which can help build glycogen and stimulate muscle protein synthesis (MSP). 
✓ GF,  dairy free 
$29.69/12 bars ($2.47 each)