I'm always looking for new and interesting ways to eat vegetables.  Here are some great salad dressing recipes to try for you and your family.  Ingredients are easy to find at your local grocery store and most recipes use the basic ingredients:  olive oil and red wine or balsamic vinegar.  Dressings can be a great way to boost monousaturated fat intake with olive oil or safflower oil.
Tip:  chop your salad to give a different texture and taste all different foods in each bite.
Tip:  double the recipe and save your homemade dressing in one of the below containers.  Can buy these at Bed, Bath and Beyond, your local hardware store or online at Amazon.com.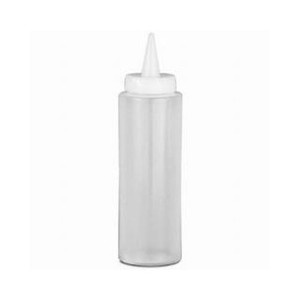 Balsamic Viniagrette
by Emeril Lagasse
Ingredients
1/4 cup balsamic vinegar
2 teaspoons dark brown sugar, optional*
1 tablespoon chopped garlic
1/2 teaspoon salt
1/2 teaspoon freshly ground black pepper
3/4 cup olive oil
Mesclun salad mix or favorite greens, for accompaniment
Assortment of salad ingredients, such as cherry tomatoes, chopped carrots, sliced red onion, chopped celery, diced cucumbers, walnuts
Blue cheese (optional), for garnish
Directions
Beat the vinegar in a bowl with the optional sugar, garlic, salt and pepper until sugar and salt dissolves. Then beat in the oil by droplets, whisking constantly. (Or place all the ingredients in a screw-top jar and shake to combine.) Taste and adjust the seasonings.
Toss a few tablespoons of the dressing with the salad mix and desired salad ingredients, top with blue cheese and serve immediately.
If not using dressing right away, cover and refrigerate, whisking or shaking again before use.
*If using a good quality balsamic vinegar you should not need the sugar, but if using a lesser quality you might want the sugar to round out the dressing
Lemon Viniagrette
Ingredients

1/4 cup extra virgin olive oil
1/4 cup fresh lemon juice
2 teaspoons minced fresh oregano (or 1/2 teaspoon dried oregano)
2 garlic cloves, minced
1/2 teaspoon sugar (optional)
1/4 teaspoon fresh ground pepper (to taste)
1/8 teaspoon salt (to taste)
Directions
1.  Whisk together all of the ingredients in a small bowl, making certain the sugar is dissolved. Adjust the seasonings to taste.
2 .  Let sit for an hour or so, and then whisk again before serving.

Shallot Viniagrette
Printed in Bon Appetite, 2003
Ingredients
1/2 cup chopped shallots
6 tablespoons seasoned rice vinegar* or can use white balsamic
1 1/2 teaspoons Dijon mustard
1 1/2 tablespoons olive oil
*Also known as sushi vinegar; available at Asian markets and in the Asian foods section of some supermarkets.
Directions
Whisk shallots, rice vinegar and Dijon mustard in small bowl to blend. Gradually whisk in oil. Season dressing to taste with salt and pepper.