This is a great recipe, easy to make and can be made ahead of time.  Recipe can easily be adjusted to accommodate vegetarian or vegan diets.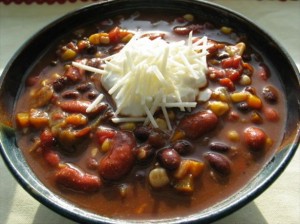 1 onion, peeled and chopped
1 lb. ground beef/turkey or 10 oz tofu
1 – 15 oz can chopped tomatoes
2 Tbsp. chili powder
2 cloves garlic
1 cup chopped carrots
1/4 – 1/2 tsp. salt
1 tsp. sugar
1 can red kidney beans
1 can Cannellini beans
1 can corn (no juice)
Directions
1.  Cook onions in oil until tender/golden.  Add carrots cook additional 5 min.
2.  Add ground beef/turkey or tofu and cook until brown.
3.  Add minced garlic
4.  Add can of tomatoes with 1/2 can boiling water
5.  In a little cup, mix chili powder, salt and sugar with cold water to create a paste.  Add to meat.
6.  Cover and simmer for 1 hour.  Check regularly that it is not losing too much liquid.  Can easily burn on bottom.
7.  Uncover and add beans and corn.
8.  Cook for 1/2 hour longer.
Notes:
Best when left over night.
Serve with sour cream and grated cheddar cheese.