Roasting a chicken is much easier than you think and is the cornerstone of a healthy diet.  Whether you are cooking for yourself or a small group, roasting a chicken is an easy and healthy option.  You can also add vegetables to roast along with the chicken to make preparation easier –  carrots, broccoli or brussels sprouts are best.  If you want to make the skin crunchier, salt the chicken night before and let stand 30 min before cooking.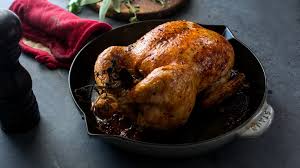 INGREDIENTS:
1 (4- to 5-pound) whole chicken, neck and giblets removed from the cavity
1 tablespoon olive oil
Kosher salt
Freshly ground black pepper
1 medium lemon, thinly sliced (optional)
Fresh herbs, such as parsley, rosemary, or thyme (optional), I like to use Herb de province, available at any grocery store.
Optional vegetables – slice carrots 2 ", slice broccoli into spears or halve brussels sprouts and roast in separate pan with little salt and olive oil.
DIRECTIONS:
Heat the oven to 425°F and arrange a rack in the middle.
Place the chicken on a work surface or cutting board and pat it dry with paper towels. Cut off and discard any extra fat hanging around the body cavity.
Drizzle the oil on the chicken and rub it all over the skin. Season generously inside and out with salt and pepper. Place the lemon and herbs inside the cavity, if using. Place the chicken breast-side up in a large Dutch oven, frying pan or cast-iron skillet.
Roast the chicken uncovered in the oven for 15 minutes. Reduce the temperature to 375°F and continue roasting until the juices run clear and a thermometer inserted into the inner thigh (but not touching the bone) registers 165°F, about 1 – to – 1 /2 hours.
Remove the chicken from the oven and place on a cutting board. Let it rest about 15 to 20 minutes before carving.
SERVE:
Slice chicken and serve with roasted vegetables and quinoa.