Here are some great high-fiber, low calorie soup recipes that are easy to prepare. Each recipe contains mostly vegetables, beans, and herbs with little oil or parmesan cheese for flavor. They are filling and are a great substitute for green salads in the winter. You can make a large amount and keep separated into portions to grab and heat up for a quick healthy meal.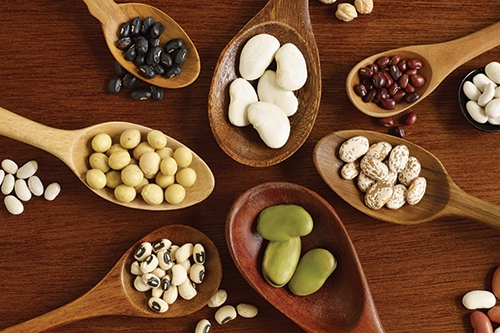 Three Bean Minestrone
4 tablespoons extra-virgin olive oil
1 large white onion, peeled and diced
2 medium carrots, peeled and diced
2 celery stalks, diced
1 cup cooked (or canned, drained and rinsed) pinto beans
1 cup cooked (or canned, drained and rinsed) white kidney beans, cannelloni or Great Northern beans
1 cup cooked (or canned, drained and rinsed) light or dark red kidney beans
8 cups water or broth
rind from a small piece of Parmigiano-Reggiano (optional)
2 zucchini, diced
2 medium red tomatoes, diced
4 cups baby spinach
1 teaspoon black pepper
6 teaspoons extra-virgin olive oil for drizzling
optional – 6 tablespoons Parmigiano-Reggiano freshly grated
In a large stock pot over low heat, combine the olive oil and onions. Sweat the onions until wilted and soft, about 10 minutes. Add carrots and cook 3 minutes. Add celery, beans, water and Parmigiano-Reggioano rind and cook for about 20 minutes.
Add diced zucchini and cook for another 20 minutes. Add tomatoes and their juices, cover and cook at a low simmer for at least 30 more minutes.
Add spinach, season with kosher salt and black pepper, and cook 2 to 3 minutes longer.
Serve with a drizzle of extra-virgin olive oil and grated Parmigiano-Reggiano cheese. Serves 6.
Nutritional Info for 1 1/2 cups serving size
Calories: 280, Total fat: 16 g, Carb: 28gm, Fiber 10g, Protein 12 gm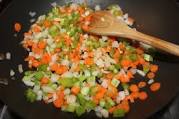 Afternoon Bean and Turkey Soup
I found this recipe at www.BeanInstitute.com/recipes
1 or 2 turkey carcasses
½ cup dry light red kidney beans
½ cup small red beans
2 small or l large onion, chopped
1 – 2 cups peeled and sliced carrots
¼ green or sweet red pepper
4 stalks of celery and heart, including any leaves that are fresh and green
1 – ½ teaspoons dry thyme
1 teaspoon ground turmeric
1 teaspoon season salt
2 teaspoons salt
1 tablespoon dry parsley or ½ cup fresh
½ cup brown rice or whole grain
PREPARATION:
1 p.m. — Put 1 or 2 turkey carcasses in a large stockpot.
Cover with water. Simmer for 1 – 2 hours.
3 p.m. — Sort and rinse beans. Add beans to the pot. Simmer.
4 p.m. — Remove turkey from the pot to a platter. Cool. Add vegetables, herbs and spices. Simmer. Pull bones apart and remove meat and skin. Cut meat into small pieces. Stir the mixture to check for bones and gristle. Remove and discard all bones and gristle. Return meat to pot.
5 p.m. — Rinse brown rice in a sieve and add to the soup. Simmer.
6 p.m. — Serve with crackers or whole wheat bread, glass of milk and fruit dessert.
Refrigerate or freeze and label any leftovers for future use.
If you need to start later, combine steps. Two hours is the minimum cooking time to make a good broth, cook the meat off the bones and tenderize the beans. Brown rice needs 45 minutes to cook. Add or substitute the vegetables and seasoning your family prefers or you have available.
4 p.m. — Put everything but the rice in the pot. Use high heat, stir and tend the pot until it simmers. It will take 20 to 30 minutes. Adjust the heat to maintain a simmer.
5 p.m. — Add the brown rice.
5:45 p.m. remove the carcass. Return the meat to the soup and serve.
Nutrient information for 1 1/2 cups serving size: 144 calories, 7 g protein, 28 g carbohydrates,
7 g fiber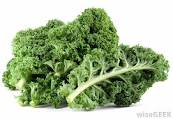 Kale and White Bean Soup
kale-white-bean-soup-46
Created by Chef Ann Cooper. Featured at the 2013 Beans For A Better Life seminar in Dallas, Texas.
Ingredients:
1½ cups onion, diced
1½ tbsp extra virgin olive oil
½ tsp garlic, minced
½ lb. (dry weight) cannellini beans, cooked (roughly 2½ cups cooked)
4 cups vegetable stock (plus a bit more to adjust liquid to your personal taste)
1 bay leaf
½ tsp fresh rosemary, roughly chopped
1 tsp kosher salt
1/8 tsp freshly ground black pepper
2 cups carrots, medium dice
7 cups kale, chopped
3/4 cup parmesan cheese, grated
Makes 8 servings.
Preparation:
kale-white-bean-soup-1
Sauté onions in oil for 5 minutes or until soft. Add garlic and cook for an additional minute.
Add cooked beans, stock, salt, pepper, bay leaf, and rosemary and simmer for 10 minutes.
Add carrots and cook another 5 minutes.
Add kale and cook about 12 minutes or until kale is tender. Add more vegetable stock if your soup needs more liquid, and warm through.
Check seasoning, adjust as needed, and serve sprinkled with grated parmesan cheese.
Nutritional Info for 1 1/2 cups serving size
Calories 171, Total fat 5.1g, Carb 20gm, Fiber 5.5g, Protein 10gm
– See more at: http://beaninstitute.com/kale-and-white-bean-soup/#sthash.HyBPQ7S6.dpuf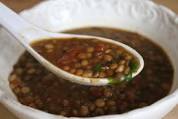 Lentil Soup
**Can use less oil to lower calorie content.**
1 onion, chopped
1/4 cup olive oil
2 carrots, diced
2 stalks celery, chopped
2 cloves garlic, minced
1 teaspoon dried oregano
1 bay leaf
1 teaspoon dried basil
1 (14.5 ounce) can crushed tomatoes
2 cups dry French lentils
8 cups water
1/2 cup spinach, rinsed and thinly sliced
2 tablespoons vinegar
salt to taste
ground black pepper to taste
Makes 6 servings
Directions
In a large soup pot, heat oil over medium heat. Add onions, carrots, and celery; cook and stir until onion is tender. Stir in garlic, bay leaf, oregano, and basil; cook for 2 minutes.
Stir in lentils, and add water and tomatoes. Bring to a boil. Reduce heat, and simmer for at least 1 hour. When ready to serve stir in spinach, and cook until it wilts. Stir in vinegar, and season to taste with salt and pepper, and more vinegar if desired.
Nutritional Info for 1 1/2 cups serving size
Calories 340, Total fat 10g, Carb 44gm, Fiber 21g, Protein 17gm