1. VEGETABLE CRUDITE WITH YOGURT DIP – cut-up a colorful rainbow of vegetables with a healthy dip or hummus in the center. Here's a recipe for an easy yogurt dip: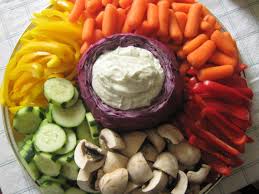 Ingredients:
1 cup low-fat Greek yogurt
2 medium cloves garlic, minced
1/2 teaspoon kosher or sea salt
1/2 teaspoon cayenne pepper
Fresh cracked black pepper, to taste
1 tablespoon chopped chives
Mix all ingredients together and garnish with chives. Keep refrigerated until serving.
2. GUACAMOLE AND BLUE CORN CHIPS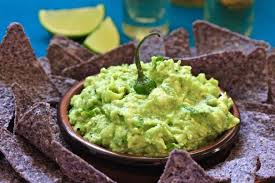 Ingredients:
3 ripe avocados
juice from 1/2 lime
1 cup cherry tomatoes, halved
1/4 cup red onion, chopped
1/4 cup cilantro, chopped
Salt/pepper to taste
Place all ingredients in medium bowl and mix together with fork. Best served chunky with Garden of Eatin' blue corn chips.
3. SHRIMP COCKTAIL – Can use fresh or frozen shrimp with store bought cocktail sauce.

4. SMOKED SALMON CANAPES  –
Ingredients:
24 slices cocktail rye bread
2 tablespoons lemon juice
2 tablespoons brewed black tea or vodka
1 tablespoon extra virgin olive oil
2 teaspoons Dijon mustard
Freshly ground black pepper to taste
8 ounces (250 grams) sliced smoked salmon, finely chopped (1 1/3 cups)
1/4 cup finely diced red onion
3 tablespoons chopped fresh dill, plus sprigs to garnish
2 tablespoons drained capers, rinsed and coarsely chopped
Directions:
Cut bread into 1-2″ squares, toast in oven for 7-10 min at 350 degrees.
Whisk the lemon juice, tea (or vodka), oil, mustard and pepper in a medium bowl. Add the smoked salmon, red onion, dill and capers. Toss to mix well. Keep refrigerated.
Add 1 Tbsp mixture to each toast and serve.